Blog
Shoki-san making experience at Asada Kawara
2022/10/25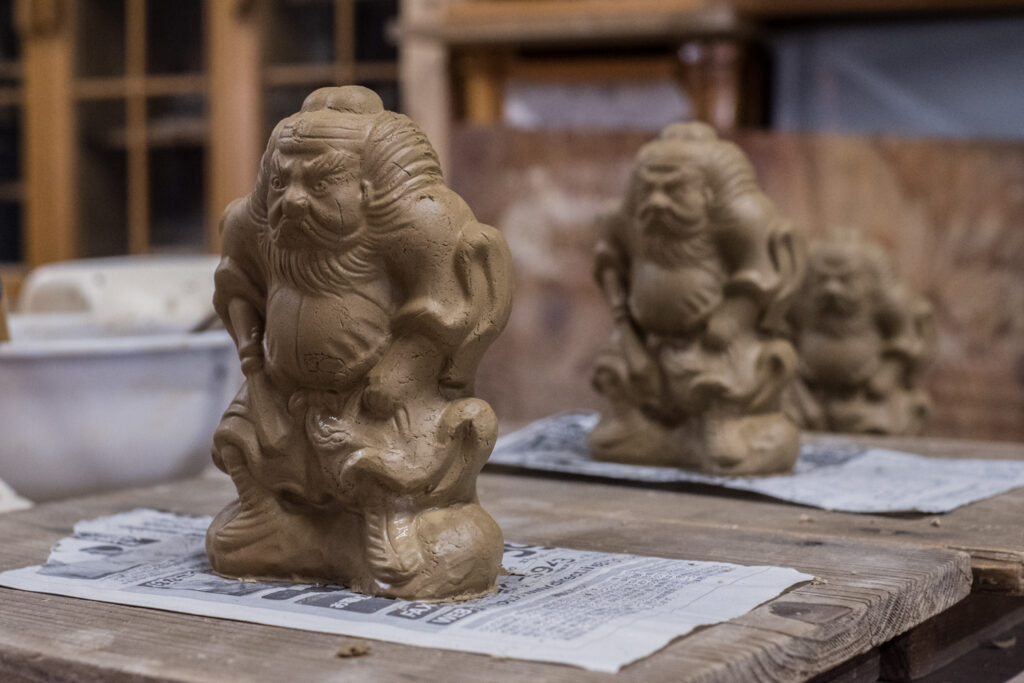 Dear Reader,
After exploring Asada Kawara Factory and interviewing its master craftsman Masahisa Asada, we're finally ready to try crafting Kyo-gawara Shoki-san ourselves. Spoiler alert: it's not as easy as it seems!
As we have mentioned previously, Shoki-san protects the dwellers of a house by standing guard on top of its entrance. His purpose is very much like that of Shisa (Okinawan lion-dogs): to ward off evil spirits, epidemics and fires. And while it's hard to have a closer look at Shoki-san in the wild, you'll have a chance to do that when you visit Asada Kawara roof tile factory and even make a Shoki-san of your own.
Fear not: Asada-san will prepare one Shoki-san for firing to show you how it's done, and then guide and support you all the way (don't forget to bring an interpreter to hear his explanations though, as he doesn't speak English!).
First, we need to fill two parts of a Shoki-san plaster mould with a thick layer of roof tile clay. The hard part is that you have to do this very uniformly with your thumb wrapped in a cloth, filling all the hollows and grooves gently but firmly, as all the imperfections will be visible on the surface of the statue later. When the two parts of the mould are filled, they are pressed together.
When Shoki-san is freed from his mould, he must be polished with a metallic spatula to take care of the line where two parts were joined. And don't forget to open the hole on the back of the statue to be able to pass a wire through it in case if you wish to attach it to your roof.
The last touch is to glaze Shoki-san with water using a brush – it's what's necessary to produce the characteristic silvery sheen of Kyoto roof tile clay. After that, you entrust Asada-san with firing your Shoki-san in a kiln and sending him to you one month later by paying the delivery fee.
If you plan to visit the atelier and learn more about Kyo-gawara, book your experience here: Asada Kawara Factory
Words & images by Anastasiya Bulkavets (ArigatoCreative.co)