Search criteria

検索中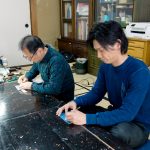 Holiday
Irregular holidays
Business hours
9:00~18:00 ※ Please choose the start time of this workshop: ①10:00, ②13:00, ③15:00
Workshop info

The multi-coloured appeal of mother-of-pearl inlay
Established at the end of Meiji era (1868-1912), Sagaraden Nomura is the only maker and retailer of raden (mother-of-pearl inlay) goods in Kyoto. One of the most outstanding techniques of lacquerware decoration, raden consists of inlaying very thin (about 0.3mm) pieces of seashell (those of Turbo marmoratus or abalone among others) into the black-lacquered surface. Due to its high ornamental qualities, raden is used to adorn various tea utensils and accessories. The craftsmen of Sagaraden Nomura play with light, skillfully adjusting the pieces of seashell to bring out the whole variety of mother-of-pearl tints. Atelier is dealing with different stages of lacquerware production, from lacquering to decorating with raden and maki-e techniques.