Blog
Interview with Keitaro Maki, Shinto furnishings artisan
2023/10/31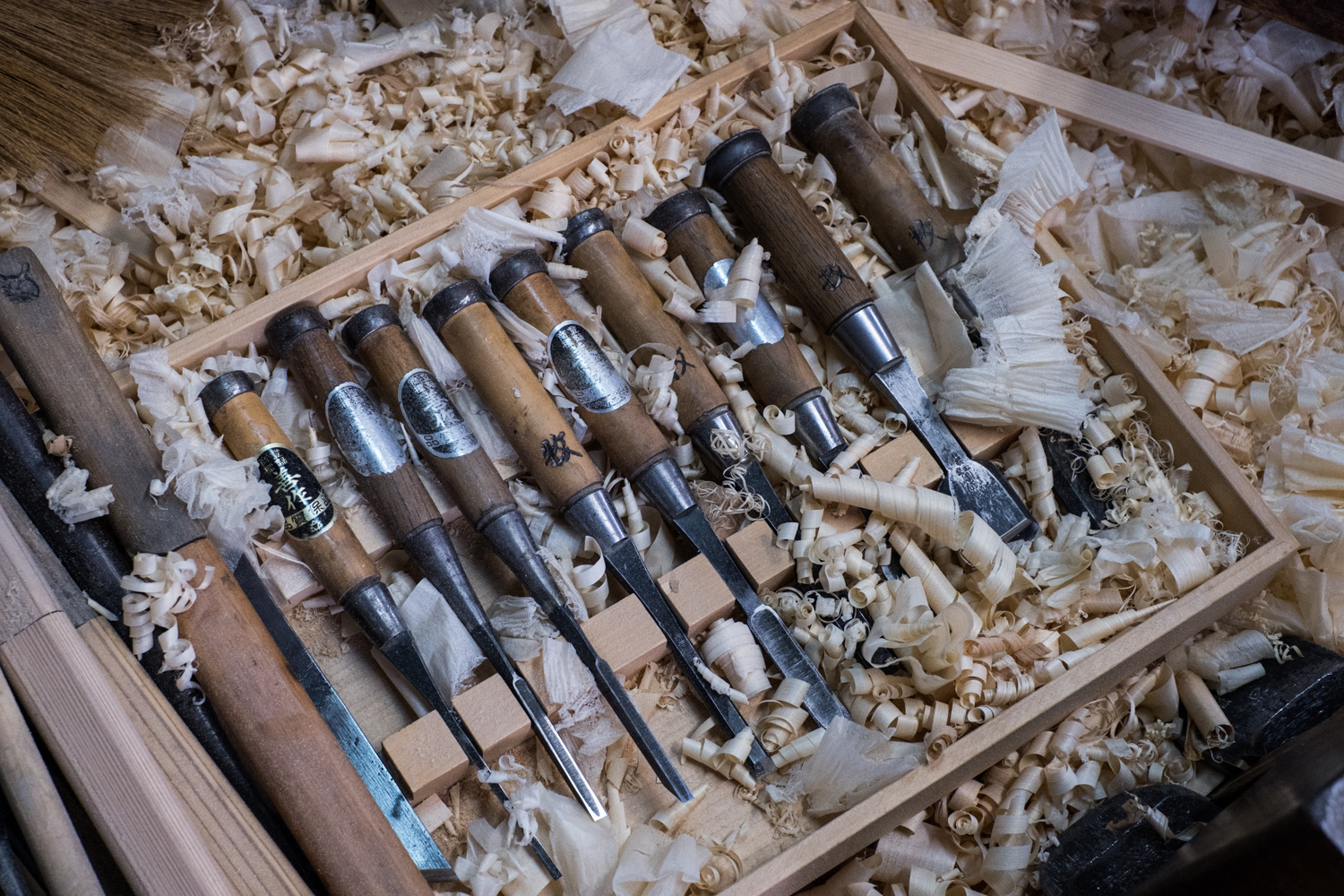 Please tell us a little about your background. What in your personal life has influenced you to choose your career?
I was born on 18 October 1977 and entered an architectural vocational school at the age of 18. There, I learnt the skills of manufacturing and drafting production drawings, which are the foundation of what I am doing now. At the age of 20, I went to work for a construction-related company, where I was engaged in development protocols and progress management work.
At the age of 27, I took a leap of faith and decided to become the fourth generation artisan in my family business, which I had been familiar with since childhood. My family business, which was founded in 1918, is specialised in Shinto crafts, and I became involved in the production and restoration of wooden furniture for Shinto treasure halls, ritual furnishings for shrines and homes, Jizo halls, portable shrines, etc.
What is the biggest challenge that you have encountered on your professional journey?
Due to the Corona pandemic, many Shinto rituals and festivals were cancelled and there were fewer requests for new products as well as for restorations. We passed through a difficult period when the continuation of our business was in jeopardy..
Also, high-quality natural Kiso cypress, which is 250-300 years old and has beautiful, dense annual rings, is used as material for the Shinto furnishings. The decline in the availability of natural Kiso cypress is now a critical situation. This wood has become difficult to obtain, and the price has risen sharply.
What do you love about what you do?
Just before starting to work on a received order, I like to take care of the tools I'll be using for the job. I feel a sense of relief when I have finished sharpening my chisels, planes, saws and kebikis to the length and angle I am satisfied with. Then I start sawing the logs and feel a sense of accomplishment when the curved timber is nicely bent and the planing is finished.
Could you please describe your typical working day?
The day starts at 9, ends at 18 and is filled with tasks that depend on the phase of the job order. Sometimes, we spend all day buying natural Kiso cypress, or at the sawmill giving instructions on sawing the logs to the desired size. In the studio, the day begins and ends with a wide variety of processes using all kinds of tools, such as chisels, planes and saws.
What are the sources of inspiration for your creative work?
I am a pure craftsman, not an artist, so I do not engage in creative work. My work requests are to reproduce specifications that have been handed down from generation to generation, and there are no creative elements involved.
On the other hand, inspiration may be at its best when it comes time to prepare the tools of my choice for each order. I am never satisfied with my work if I use my grandfather's or father's tools. As a craftsman, I can say that my tools are the 'source' of all my work and products.
What are your plans and goals for the next couple of years? What do you wish to achieve?
With the relocation of the Agency for Cultural Affairs to Kyoto, there will be more opportunities for the restoration of Kyoto cultural properties, particularly its Shinto furnishings. As a craftsman in Kyoto, I would be happy to play a part in these projects.
Please tell us why would you recommend your work/products to craft and design lovers. What positive impact they can make on people's lives?
The warmth of the wood we deal with every day, and the smell of the wood when it is cut, is a breath of fresh air in an inhospitable world. Less and less households have a kamidana (household shrines) nowadays. Even so, I would be grateful if our kamidanas could provide an opportunity for people to express their gratitude to the gods at home or at work. There are many things to wish for, such as traffic safety, business prosperity, and I hope that there will be more opportunities to look back on the day with gratitude. I believe it is very important to preserve the traditional techniques of our predecessors.
If you plan to visit the studio and learn more about Shinto shrine woodworking techniques, book your experience here: Maki Shinto Ritual Articles Store
Interview by Yutaka Sato, translation & images by Anastasiya Bulkavets (ArigatoCreative.co)