Blog
Visit to Orinasukan, Kyoto Nishijin Hand Weaving Museum
2022/09/06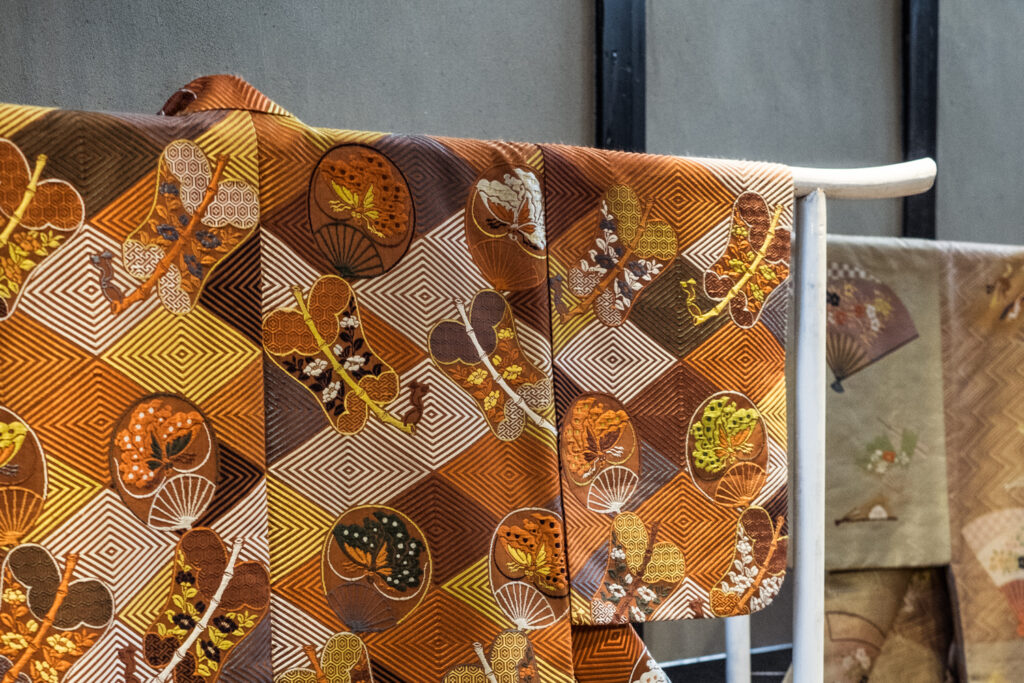 Dear Reader,
This month, we're diving into the colourful universe of Watabun, one of the most prominent Nishijin weaving companies. The visit starts at Orinasukan, a traditional Kyoto machiya townhouse built in 1936 in Kyoto Nishijin district. Having served as a weaver's house of the founder of Watabun company in the past, the building was renovated and opened to public in 1989 as the Hand Weaving Technology Promotion Foundation and Museum.
On the first floor, we admire the beamed high ceiling and the sparkling light coming from the windows and the rear courtyard. The former kitchen area was transformed into a display place for antique kimonos, usually Noh costumes.
On the second floor, we find vintage kimonos, yukatas and weaving tools from all over the country collected by the Foundation. We're happy to hear that the textiles on display are changed each season, so there will always be something new. We're visiting at the end of August, so all the pieces are light and airy, representative of the summer kimono culture of the regions where they were produced.
The atmosphere here is quite unique and carries you to the past, making you wonder about the everyday life of the people who wore these garments and cherished them enough to carefully store them for future generations.
The designs of the obi sashes on display look very modern, but we're surprised to learn that these textiles are vintage. Each of them is a very detailed piece of art to wear.
Next week, we're continuing our visit to Watabun by entering its weaving atelier for a fabulous loom weaving experience. See you there!
If you plan to visit Orinasukan and learn more about Kyoto Nishijin weaving culture, book your experience here: Watabun (Orinasukan)
Words & images by Anastasiya Bulkavets (ArigatoCreative.co)