Blog
Shibori experience at Morimoto
2022/08/30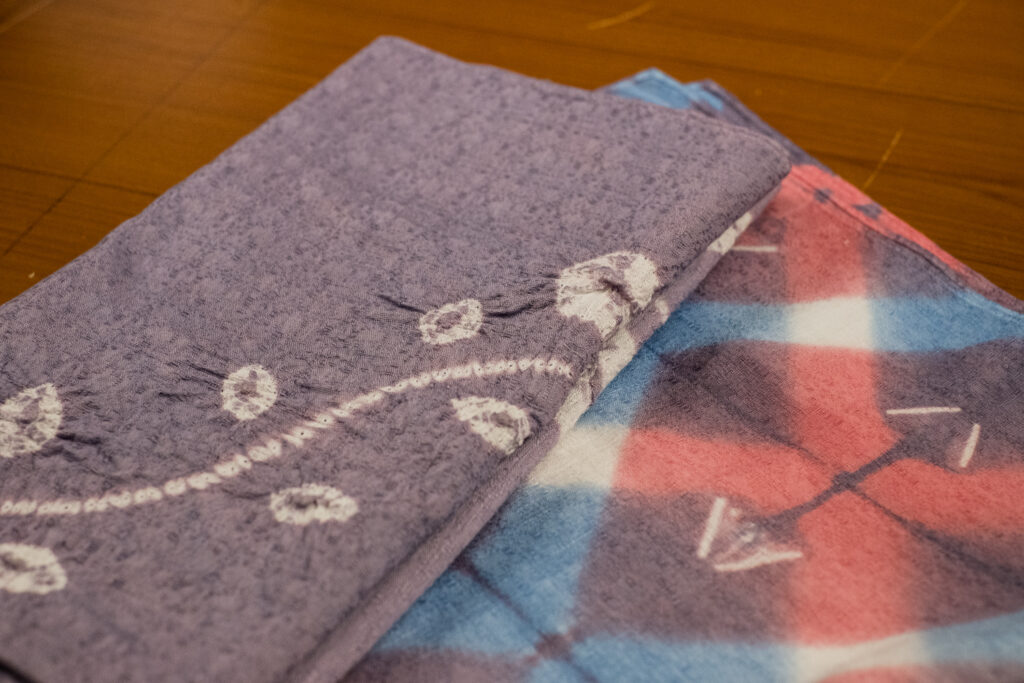 Hello Reader,
As promised, we're sharing our hands-on experience at Tie-Dyeing Atelier Morimoto, where you can try your hand at itajime-shibori or kukuri-shibori, both taking about 1.5 hours to complete. We decided to do a bit of both to compare them for you.
The kukuri-shibori technique consists of stencilling a pattern on a white handkerchief with a special disappearing aobana pen and tying the cloth with an extra strong thread before dipping it in dye. Deceptively simple, the tying process requires quite a skill level and some time. You have to use a separate thread for each part of the pattern (for example for the butterfly pattern, 6 threads were used) and tie them tightly with a helpful tool that you attach to the table.
The itajime-shibori is a bit more straightforward: you fold your handkerchief and clamp it between wooden boards to create repeated geometric patterns. After the first dip in the dye (we chose purple, but you'll have a set of colours to choose from), the cloth can be re-clamped in a different way to make the pattern more nuanced.
The result was lovely! The handkerchief was carefully steam-ironed to remove unnecessary wrinkles and to set the dye.
After completing our first tie-dyeing challenge, we gained even more respect for the shibori artisans. We learned that in the shibori industry, each product must be tied by the same person because everybody would have their own tying style. Also, if you have health or mood fluctuations they will be reflected in your work as well, so shibori artisans pay attention to their health and keep their minds calm while working. We may have discovered another kind of meditation!
If you plan to visit the atelier and learn more about Kyoto traditional tie-dyeing, book your experience here: Tie-dyeing Atelier MORIMOTO
Words & images by Anastasiya Bulkavets (ArigatoCreative.co)