Blog
Interview with Yuki Yokoyama, a dedicated bamboo craftsman
2023/03/14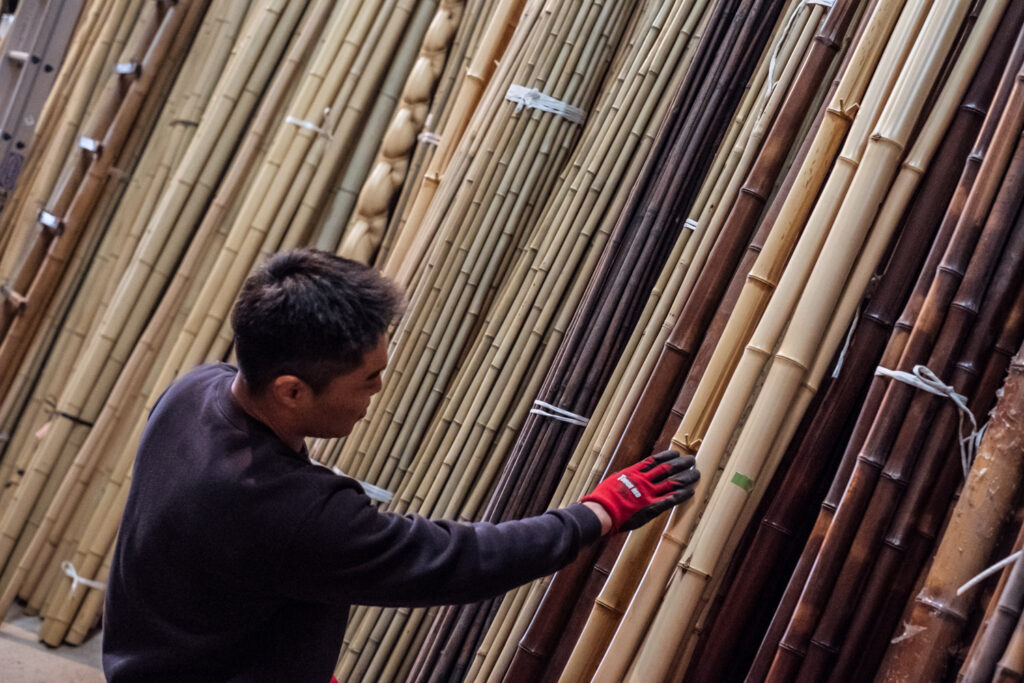 Please tell us a little about your background. What in your personal life has influenced you to choose your career?
I was born in 1979 to a family that ran a bamboo wholesaler, and since I was in elementary school, my grandfather was telling me that I should take over the family business in the future. At 23, I started working for a real estate company in Tokyo, but when I turned 26, my grandfather contacted me and I decided to return to Kyoto to take over our family business.
What is the biggest challenge that you have encountered on your professional journey?
It's time management. Inheriting the family business meant not only honing my skills as a craftsman, but also learning a lot about sales, management and other miscellaneous tasks. I worked longer hours than other artisans and had a very hard time learning various things efficiently.
What do you love about what you do?
I love that I'm able to see firsthand the joy of my clients when I work on-site installing bamboo fences for example.
I also like going to overseas exhibitions and seeing the reactions of foreigners who are amazed at the beauty of Kyoto bamboo.
What are the sources of inspiration for your creative work?
The source of inspiration is to always keep bamboo in a corner of your mind 24/7. By doing this, new creations can suddenly be born in your mind during ordinary scenes in your daily life.
How have the events of the past couple of years affected your work and your industry?
In the past few years, our industry has suffered a major blow, especially since the number of tourists has decreased due to Corona. I personally saw this as a good opportunity to look back on the path I had taken, reflect on the bad parts, and brush up my skills. We also developed new technologies and came up with a number of new products for a fresh start after the pandemic.
What are your plans and goals for the next couple of years? What do you wish to achieve?
First of all, I'd like to get the company back to the way it was before Corona, and then, I'd like to resume its overseas expansion, which wasn't possible during the time of Corona. Recently, due to the depreciation of the yen, I feel that Japanese manufacturing needs to expand overseas even more.
Please tell us why would you recommend your work/products to craft and design lovers. What positive impact they can make on people's lives?
Bamboo is one of the materials that are attracting worldwide attention as a very sustainable material. We have used bamboo to enrich the hearts and minds of the Japanese people. I believe that we can use our experience and technologies to pursue the possibilities of bamboo and provide products that will enrich the hearts and minds of not only the Japanese people but also people around the world.
If you plan to visit the studio and learn more about Kyoto bamboo production and crafts, book your experience here: Yokoyama Bamboo Products & Co.
Interview, translation & images by Anastasiya Bulkavets (ArigatoCreative.co)