Workshop Information
[008-01]Gold leaf stamping experience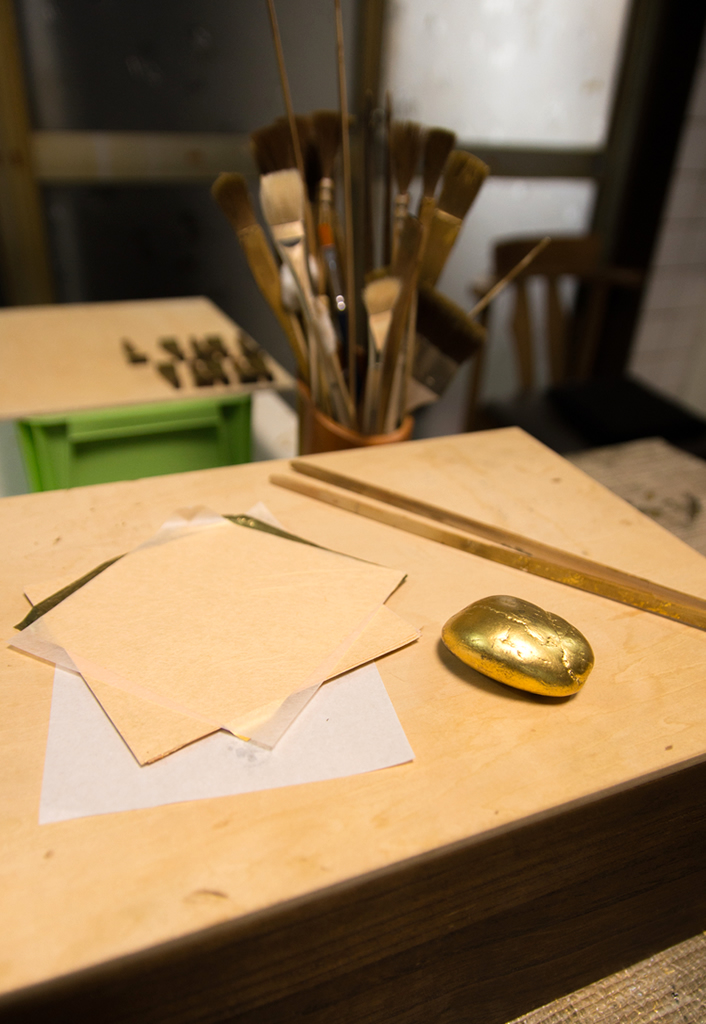 Have fun stamping gold leaf on a paperweight and then take it home as a souvenir.
From a selection of small stones of different shapes, choose one and thoroughly apply cashew lacquer adhesive (originally, urushi lacquer was used) on before wiping it off neatly. Then, stamp the gold leaf and remove the remains of it with a brush. There you have your own original paperweight!
| | |
| --- | --- |
| Location: | Inside of the atelier・Indoors |
| Reservation deadline: | 2days before |
| Facility conditions: | Chair / Clothes may get dirty / Shoes off |
| Number of participants: | 1~5 people |
| Photography: | ◯ |
| Remarks: | The natural urushi lacquer is used in the studio, so please understand that there is a possibility of developing an allergic reaction to it. For the visitors' hands-on experience, cashew lacquer is used instead, but there is still a risk of developing a skin rash. There is also a possibility of getting some gold dust on your clothes. |
Time Required:
about
1
hour
Reviews
An enjoyable experience

Translate

★★★★★ S. Attended as solo traveler

I was able to have a one-on-one lesson with Mr. Fujisawa in which he taught me, step-by-step, how to apply gold leaf to a small object. The artisan was very patient in showing me how to do everything, and encouraged a very hands-on approach. He not only explained the how, but also about his own past experience in his work.

Make sure that you bring someone who can speak Japanese with you, and don't be afraid to get your hands dirty. Mr. Fujisawa does not use real lacquer in the lesson so you are unlikely to be hurt, but if you have a nut allergy be warned that what he uses in place of it is made with a base of cashew nuts.

This was a very enjoyable experience and I would happily do it again.

Fantastic birthday treat

Translate

★★★★★ R. T. Attended as couple

I was lucky to indulge in a Gold Leaf Stamping Workshop. From stellar communication via Aki and Takeno, to being taught the intricacies of gold leaf stamping by a master and leader in the field, this made for a truly unforgettable day. I highly recommend this workshop, which I found to be relaxing, informative and fun.